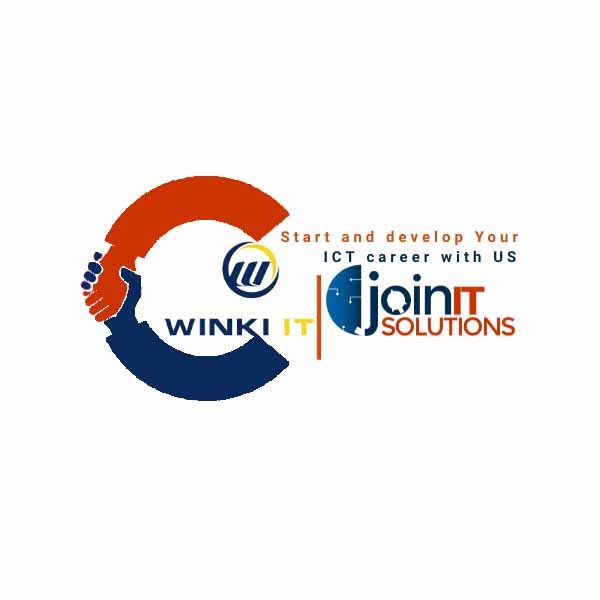 New partnership with Winki IT
We are thrilled to announce a strategic partnership between JoinIT Solutions and Winki IT aimed at revolutionizing the landscape of Information and Communication Technology (ICT) education in Cameroon.
About JoinIT Solutions:
JoinIT Solutions is a leading global technology education provider with a commitment to empowering individuals with the knowledge and skills necessary to thrive in the digital age. With a proven track record of delivering high-quality training and certification programs, JoinIT Solutions has become a trusted name in the industry.
About Winki IT:
Winki IT is a dynamic and innovative ICT company with a deep-rooted passion for nurturing talent and driving technological advancement around the globe. With a team of experienced professionals and a strong emphasis on practical learning, Winki IT has established itself as a catalyst for ICT excellence.
The Partnership:
The partnership between JoinIT Solutions and Winki IT marks an exciting chapter in the advancement of ICT education in Cameroon. Leveraging both parties expertise in ICT training this collaboration will offer comprehensive and industry-relevant training programs to aspiring individuals seeking to excel in the world of technology.
Key Highlights:
Cutting-Edge Curriculum: The partnership will introduce an innovative curriculum designed to bridge the gap between theoretical knowledge and practical application, ensuring that graduates possess the skills required by employers in today's rapidly evolving ICT landscape.
Certification Programs:
Participants will have the opportunity to earn internationally recognized certifications that validate their proficiency in various ICT domains, enhancing their employability on a global scale.
Expert Faculty: The training programs will be led by a team of experienced professionals from both JoinIT Solutions and Winki IT, offering students valuable insights and mentorship throughout their learning journey.
Job Placement Support: JoinIT Solutions and Winki IT are committed to facilitating job placements for program graduates through their extensive industry networks and partnerships.
Quotes:
Brian Chongwain, CEO of JoinIT Solutions: "We are excited to partner with Winki IT in bringing cutting-edge ICT education to Cameroon. Together, we aim to empower individuals with the skills they need to succeed in today's digital world."
Brunhilda Waindim, Founder of Winki IT: "This partnership aligns perfectly with our mission to foster local talent and drive technological innovation. We look forward to making a lasting impact on the ICT landscape in Cameroon."
Enrollment Information:
Interested individuals can learn more about the upcoming training programs and enrollment details by visiting our respective websites:
Apply for upcoming scrum master certification training
JoinIT Solutions: www.joinitsolutions.com
Winki IT: www.winkiit.com
We are excited about the possibilities that this partnership holds and invite you to join us in shaping a future powered by knowledge, innovation, and technology.
About us
JOINIT Solutions LLC is an IT Consultancy specialized in bridging the IT Gap by supporting individuals in starting or developing a career in IT and offering advanced IT services that enable organizations and small businesses to transform their operations through innovative IT solutions and leverage our networks to find and recruit top IT talents.
Contact Us
+1 (210) 993-7190
contact@joinitsolutions.com
joinitsolutions.com
Visit Us
13923 Elounda
San Antonio, TX, 78245
USA