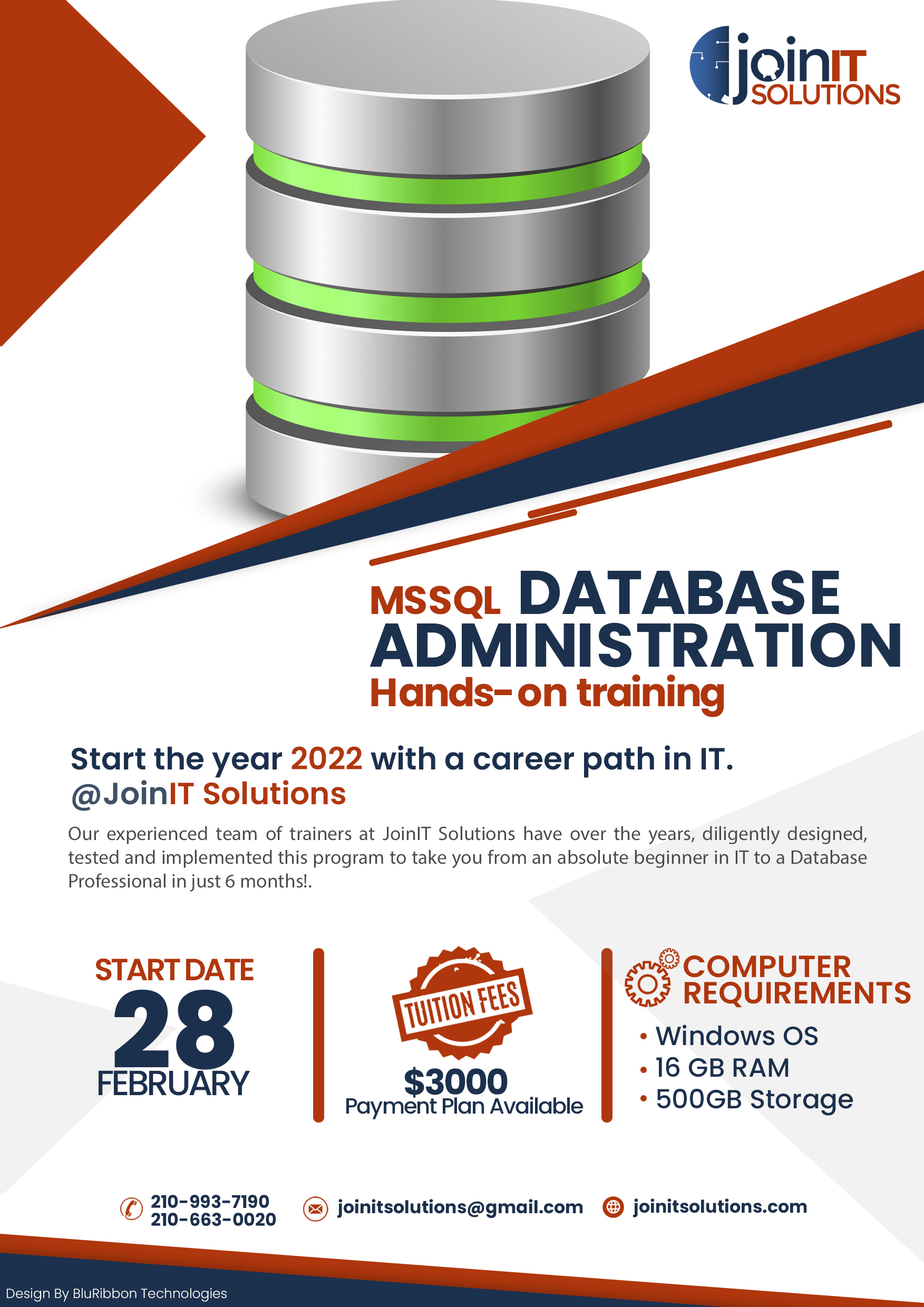 Database administrator February 2022 Session.
We hate to announce that applications for the October 2021 MSSQL Server session are officially closed as of right now. All available slots are currently filled up!
Did you just miss it? Not to worry as there is good news.
We are absolutely delighted to announce the date for the first 2022 session is
Start Date: February 28th, 2021
Applications are already open for this session and you can go ahead and register on the link below
https://joinitsolutions.com/apply-for-mssql-server-hands-on-database-administration-training/
Secure your spot today and commence your journey to the IT world with JoinIT Solutions and our team of dedicated professionals will guarantee your success.
Also, join our Official Whatsapp Group for regular and real-time updates about our February 2022 session
https://chat.whatsapp.com/Ku5TeZTM5xs2Sx5L8DwZ94
We implore you all to share with your friends and family who are interested in taking the training. A word goes a long way to helping us build a community of IT professionals.
Remember, all you need is
Minimum Requirements
– A Laptop
– Windows Operating System (OS)
– 16 GB RAM
– 500GB+ storage
– An External Monitor
…also, a zeal and hunger to succeed.
Questions, contact us today and speak with one of our seasoned professionals.
Email: joinitsolutions@gmail.com
Phone Number: +1 (210) 993-7190
Website: https://joinitsolutions.com/
About us
JOINIT Solutions LLC is an IT Consultancy specialized in bridging the IT Gap by supporting individuals in starting or developing a career in IT and offering advanced IT services that enable organizations and small businesses to transform their operations through innovative IT solutions and leverage our networks to find and recruit top IT talents.
Contact Us
+1 (210) 993-7190
contact@joinitsolutions.com
joinitsolutions.com
Visit Us
13923 Elounda
San Antonio, TX, 78245
USA