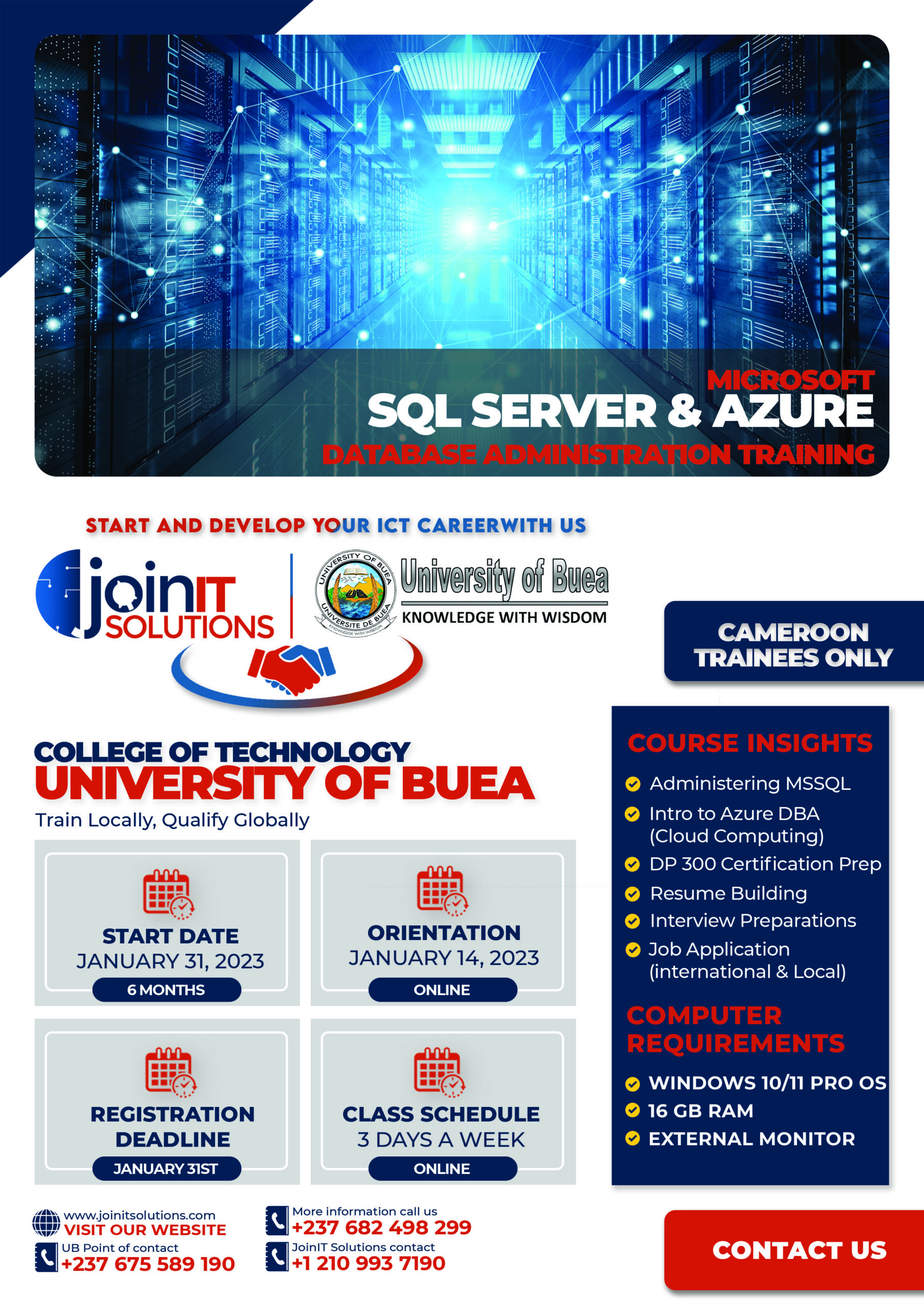 Application and admission process into the database administration training in the college of Technology, University of Buea
NOTE: Minimum Admission Criteria
– Above 18 years as of Application date
– Must have Advance Level certificate from any of the High schools in Cameroon
STEP 1, applicant Fill out the online application. https://joinitsolutions.com/ub-partnership/
STEP 2, Admission Team UB/JoinIT
Payment of the tuition and filing out the form-b is what guarantees your enrollment into this program. You will receive an email from the admission team with instructions on how to pay your registration and the first installment. This information will be sent within 5 business days from the date you applied. The Email will contain email addresses and phone numbers needed in the next steps.
STEP 3, Applicant
Once you make the payment, send a picture of the receipt via email or WhatsApp to the numbers or Emails provided in STEP 2 above.
STEP 4, Admission Team UB/JoinIT
Once we receive the receipt and confirmation of your payment, you will be added in the actual class group and a FORM B emailed to you to fill out and return
STEP 5, Applicant
Once you fill out the Form B, scan and email a copy to the emails provided in STEP 2 or turn it in on Campus in person.
Remember the number of spots are limited and this shall be treated in a 'first-come, first-serve basis
STEP 6, Applicant
Get ready to attend the orientation (Date to be announced) and be prepared to start classes.
For more information about schedule, Computer requirements, check the application link above
Good luck in your IT Journey.
Start and develop your IT career with us.
Get Started Today!
COLTECH UB – JoinIT Team.
About us
JOINIT Solutions LLC is an IT Consultancy specialized in bridging the IT Gap by supporting individuals in starting or developing a career in IT and offering advanced IT services that enable organizations and small businesses to transform their operations through innovative IT solutions and leverage our networks to find and recruit top IT talents.
Contact Us
+1 (210) 993-7190
contact@joinitsolutions.com
joinitsolutions.com
Visit Us
13923 Elounda
San Antonio, TX, 78245
USA